I attended a great event at the University of Lincoln yesterday ('Headspace', April 2014) – a 'general' networking thingy involving media/radio/audio students and a bunch of people like me. Thanks to Zara Healy for organising it.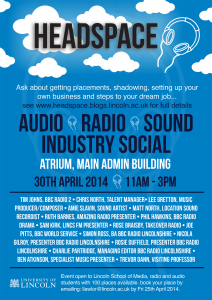 I had a few thoughts from the day to share, which might be of use to media students in Lincoln and beyond: 
At Q&A events, ask good questions
A lot of questions we were asked yesterday were about 'how to make a good impression on people in the industry'. The whole event was built around students asking questions. And people immediately made a good impression when they asked a good question. So there's one simple answer!
That is so true both at events like this, but also any time you're chatting to people in your industry (ie. when you're 'networking', as much as that word is slightly horrible). Ask good questions.
A lot of people yesterday didn't try to ask any questions. Why not? Are you not interested? Not curious? Not passionate about your future career? Not confident enough to ask?
Then, a lot of people ask incredibly generic and predictable questions. There's nothing wrong with this, if you have a question and want to ask it – good – it's important that you do so, even if it's not a 'new' question. These questions are along the lines of "how do I get a job as a radio presenter?". "How can I get work experience?". "What tips do you have to get into radio?".
But the people who really make an impression ask precise and practical questions and are clearly interested in the answer. "I love driving radio desks; how can I persuade the manager at my local radio station to let me get some practice there?". "I want to be a presenter. Should I send people a demo on CD, MP3, or with a link to my Soundcloud?". These are still simple questions, but they are focused.
Even better/in addition – ask someone a question specific to what they do, and make the question interesting. "You do xyz. If I wanted your job one day, what's the one skill you would focus on if you were me?". It's just a thousand times more interesting than the question "how do I get a job?".
Email people!
This is an easy hit – and a really simple and non-intrusive way of doing the whole 'networking' thing.
There's no doubt that networking is really important. Not just for helping get experience now. In ten years' time someone you say hello to today could prove really useful in your career. That's as true for you if you're just graduating as it is for me – for all I know later in life you'll be my boss.
So when you're starting out and trying to get experience or a job, email everyone you meet in your chosen sector. Just say hello, say who you are, and perhaps ask a simple question to get advice and build a relationship. It's amazing where it can lead, even if it seems a bit pointless at the time.
Take yesterday's networking event, for example.
Perhaps the best thing an attendee could have done would have been to look at the list of speakers, and to email each and every one beforehand to introduce themselves and just say "look forward to meeting you", or something similarly cursory.
I don't think anyone did that.
Second-best is doing the same thing after the event. If you go to a conference or guest-lecture or shadow someone in their job – get in touch with everyone you met or heard from afterwards just to say hi and thanks.
I met a few people today who I know will do that – but it's always surprisingly few. See my last post about getting work experience for more on that…
Is LinkedIn important?
I've never been the biggest fan of LinkedIn but I surprised myself by answering this question yesterday with an overwhelming 'yes'.
This might sound slightly stalker-ish… But people from the University of Lincoln and elsewhere often get in touch to ask if I'll be an interviewee for a project associated with their course. I invariably, out of curiosity, stick their name into Google to find out if this person has a Twitter/LinkedIn profile and I find myself making surprisingly quick judgements about them on this basis. A student getting in touch who has an up to date and comprehensive LinkedIn profile and an active and engaging Twitter page really, really stands out – because the vast majority don't have these simple things.
I think increasingly there's an expectation that if you're part of the next generation of broadcasters you'll at least be on Twitter and LinkedIn. If you're not already, it's never too late to start.
Don't be passive
The above advice is all very simple stuff. Some people might read that and think 'why do you even need to say that?!'. Yet some students were totally passive yesterday – happy to turn up, sit, and listen as if it were a day-to-day lecture. It was a day about networking, about asking questions, about being engaged.
Turning up and listening isn't enough if you want a job in any highly competitive sector, and the media is most certainly one of those.
And I was so encouraged by many people who spoke up with good questions and looked excited just to learn more about the industry they want to work in.
So if you're studying media/radio/audio/similar don't be passive. Be active. Ask good questions. Email people. Be excited about what you're doing. Understand that your course gives you vital skills but does nothing on its own to get you a job unless you get out there and make that happen for yourself.