Perhaps you've seen this image doing the rounds: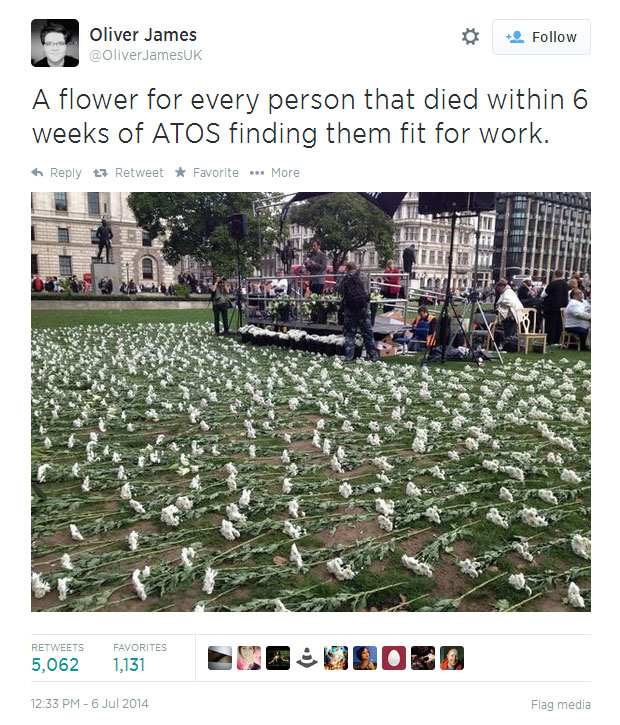 Since @OliverJamesUK posted it on 6th July it's gone viral. Thousands retweeted it immediately, others nicked it and re-posted it, campaigners and celebrities like Frankie Boyle shared it, and it's all over Facebook timelines.
But is it accurate? And where's the picture from?
This is not about the pros or cons of the Work Capability Assessments. There's plenty of evidence to suggest they've gone wrong in many instances, and the Atos contract is due to come to an end. This is about how a simple, powerful message can spread on social media even when people don't really know what it is they're sharing.
This picture was actually tweeted a few times over previous months, but never got much attention. It actually dates back to a rally against disability welfare cuts held on 28th September 2013. More pictures here… The fact that it's gone viral this time suggests that the wording of the tweet was important.
The flowers are meant to represent "more than 10,000 people who died shortly after undergoing the Atos Work Capability Assessment".
But hang on – the number of people who underwent the assessment is very different from the number of people who were actually declared fit for work, as the tweet stated.
So how many really was it?
The protest last September, and the '10,000' people the flowers were for, are based on the table below, which comes from a DWP report from July 2012.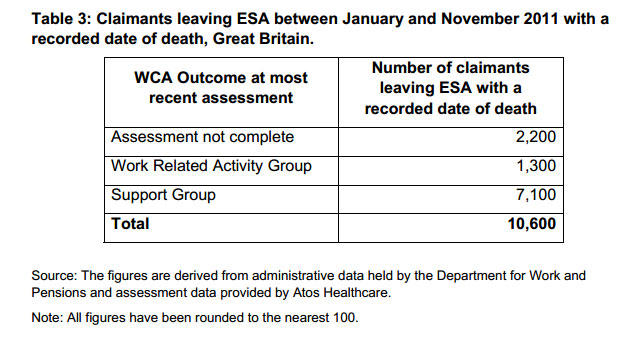 What does it mean? Those 10,600 people started the fit-for-work assessment.
Of those, 2,200 never completed the assessment
7,100 were placed in the 'support group'. These people were specifically deemed

not

fit to work.
The DWP states in that report:
"Those in the Support Group receive unconditional support due to the nature of their illness, which can include degenerative conditions, terminal illness and severe disability."
The remaining 1,300 were placed in a 'work related activity group'.
From the DWP:
"Those in this group are not expected to work, but are provided with help and support to prepare for work where possible."
And here's the most important bit regarding our original tweet. From the last page of the report:
"Data on the number of ESA claimants that have died following a fit for work decision is not available, as the Department does not hold information on a death if the person has already left benefit."
So is the original tweet accurate? Absolutely not. Do people sharing it think it's factually accurate and shows a new, current picture? Almost certainly.
Confusing a desire for accuracy with giving an opinion
The difficulty with writing things like this is that people jump to the conclusion that you're somehow arguing one side or the other on the issue itself. I'm not. Just because I'm pointing out that the tweet is misleading doesn't mean I don't agree with its sentiment.
This exchange on Twitter regarding the 'flower tweet' is typical – if you go looking there are many like it: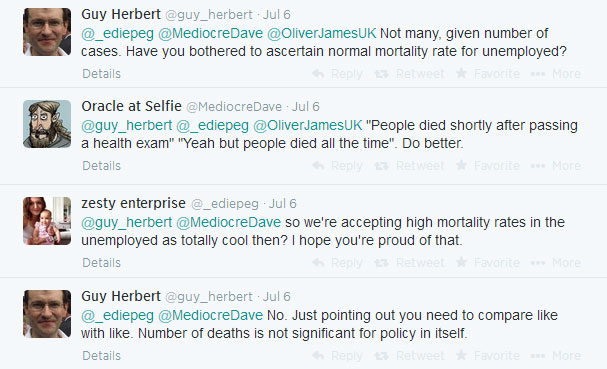 Politics aside, @guy_herbert is right that a number with no context is unhelpful. Statistics are an important business. But when you question them on such an emotive topic people become angry, as if because you want accuracy you don't care for those 10,600 individuals who died.
If you believe in a cause and want to campaign on it, those in power will ignore you if your numbers don't add up, or if your facts are not facts. So if you want to share things to further a social cause, I would argue that asking what exactly it is you're sharing, and whether it might be accurate before you click 'retweet' can help.