Anyone studying or starting out in broadcast journalism or radio production will probably be familiar with a certain set of 'rules' and best practice. A lot of that is great guidance. A lot of it is nonsense and depends entirely on the situation, the story, your audience and the programme and station you're working on.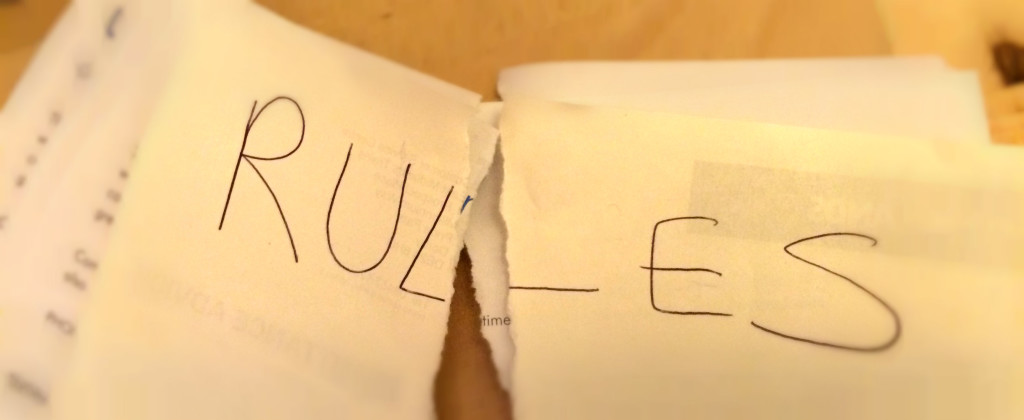 Here are five radio rules the Jeremy Vine Show on Radio 2 often breaks:
Write short snappy scripts/cues
The 'rules' tell us to write around three precise sentences to introduce an item. They must be straight to the point, with the first sentence being something like a 'headline'.
This is a great default. If you have a good guest lined up, keep it short and snappy, and let the guest do the talking.
But sometimes, if you have time to craft just a few extra words, you can use the cue to give excellent context to the discussion and to give it a sharp editorial angle. The cue sets the scene for the many minutes which might follow. For complex topics or ones which you want to put your own spin on, the introduction is vital. It shapes the conversation.
So often a short cue is good. And concise is always better than waffley. But in some instances a slightly longer, well-crafted cue can be much better. You do, however, need a good presenter to do justice to a longer cue.
Keep interviews/reports short
The 'rules' state that professional news radio interviews should usually be no more than a few minutes long. A reporter going out to record something will be told "you have no longer than two minutes" by an editor or a producer who, obviously, hasn't yet heard how good what's about to be recorded will be! It's usual for a particular 'slot' in a programme to be a certain length, and the interview must fit into it. But that's not the right way to do radio. If the audio is interesting, captivating, fascinating, exciting…let it run longer. Change the 'slot'.
Again, the 'rule' isn't a terrible one. Keeping things short and snappy is generally an excellent idea. And you need structure. But don't let that rule steamroller an incredibly special bit of radio to an early ending.
Avoid obviously boring topics
Whatever you do avoid booking a train spotter! Or a stamp collector. Yawn. And please avoid the girl who collects exhaust pipes.
No! The more niche and 'boring' the topic, the more interesting a guest you might discover. If you book someone who has spent 20 years collecting washing machine manuals, they'll be an expert, passionate, unusual, and even if they sound a little…dull…they may well do so in a captivating way. Never write-off a niche topic you're not interested in just because you think the guests for it might be boring. Predictable popstars talking about their latest album are boring. But a long-term washing machine manual collector could be the best person you've ever booked. Honestly.
Book guests with radio experience
Reporters, correspondents, commentators and regular guests are a radio staple. And they will continue to be. But don't be afraid to book people who have NEVER done a moment's radio in their life, if they sound good to you on the phone. They are more likely to deliver their argument in an unexpected, unscripted and off-the-cuff way. And it is that which can make for exciting, anything-could-happen radio. Also – if someone really knows their subject inside out and are just a naturally great 'talker', they are often GREAT on air even if they've never been on the radio in their life.
Use vox pops to set out the arguments
I used to hate collecting vox pops (asking the public what they think about a given topic). Radio wisdom has it that they're a great addition to any debate. Collect the 'views of the people' and away you go. I was absolutely delighted when I joined the Jeremy Vine Show team and realised that the Editor – Phil –  couldn't care less about vox pops. I agree.
They absolutely do have their place. They really can be a quick way to set out clear and differing arguments on a given topic. They're a way to get the audience on air. And with a great editorial idea, they can enhance any news report if done in the right way.
However – I would suggest that most of the time vox pops are undertaken in a lazy editorial manner, and are utterly boring and banal.
So goes the editorial meeting: "Let's do topic x. Let's do a vox. Then we'll book a guest". And that's that. TV news does it too.
Often 'members of the public' do have brilliant insights, but more often than not what I hear is generic 'filler' in an attempt to make an item more varied. If you go shopping for a new bath sponge and someone thrusts a microphone in your face and asks what you think about the closure of six posts in the local police force you might not give an answer which helps to inform and educate the people who will hear your answer when it's broadcast. In those instances – especially for radio – I'd rather the reporter's hour spent collecting and editing the vox pop was instead used finding a great contributor who actually cares about the subject and who can bring an informed discussion to life.
ps. If you do go hunting for voxes – here are my top tips on how to! (Not hypocritical whatsoever).
pps. This is titled the 'worst' vox pop ever but that's not true because it's thoroughly entertaining…