Below you'll read the story behind one of most unusual things I've ever produced for the Jeremy Vine Show on BBC Radio 2. And, in his own words, a journalism student explains the bizarre events which led to his debut on the county's biggest news programme.
This story is the story of a story. And it's a great story. It all led to this:
In September 2014 a deer was decapitated by a roller coaster at a theme park near(ish) Ripon in North Yorkshire.
I should say: our thoughts are with the deer… Take that as a fact so that the below doesn't sound too callous.
We spotted the story one afternoon after the lunchtime radio show. It was a striking and unusual story. Our first thought was that getting a journalist to do a report while riding the actual roller coaster in question would be an 'interesting' way to cover it.
For many reasons, it was a long shot. Why would a theme park in the headlines for accidentally killing a deer give us permission to go and report on it? I called the theme park. They asked me to 'send an email' to someone who was 'in a meeting'. Never a good sign. Especially for something like this where I'd need to do some 'charming' to best explain that it could somehow be good PR for the park. I sent the email but didn't get a response. I called the head office of the park's parent company and was referred to their external PR company. Finally I spoke to someone. I gave it the hard sell. The answer was, understandably, "probably not".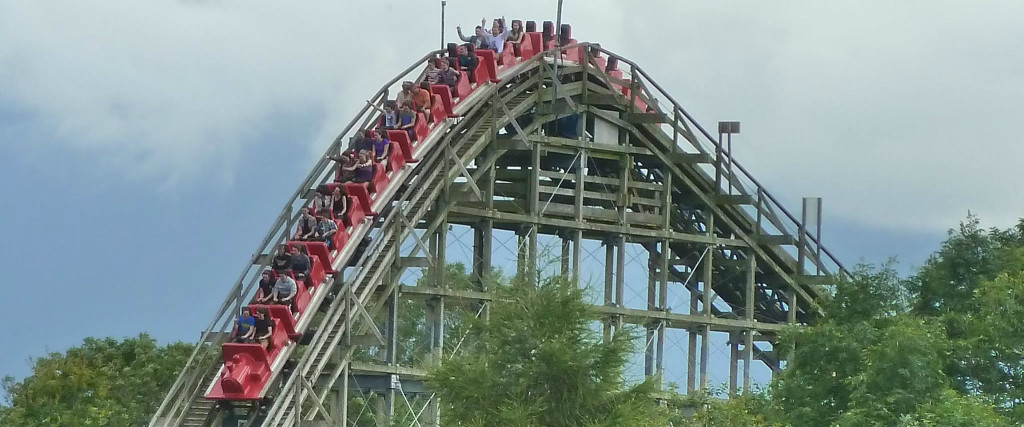 Imagine my surprise the next morning to find an email saying they'd let us do it. Imagine my even greater surprise when I learned that due to the time of year the park was actually closed, and that they'd be opening up and running the roller coaster just for us. Wow.
In the office, we had our morning meeting and with enough other 'proper' news on the programme we decided to go ahead with the deer story. Now I just had a few other minor problems to overcome… I needed to have everything in place by 11:30, ready to go on air at 12:30. Our morning meeting finishes at 09:00. The immediate problem was that I needed a freelance journalist who was free, and available to get to Lightwater Valley theme park. So I needed to find:
Someone able to get to the middle of nowhere quickly…this theme park is an hour drive from its nearest cities York and Leeds. Therefore…
Someone with a car
Someone willing to record a report about a decapitated deer. A couple of very experienced freelancers I spoke to weren't interested. Others were unable to for various reasons – including John Bowness who suggested someone else
Someone good enough at reporting to stick on Radio 2
Someone with their own recording device
During our morning meeting, one of the many people I had contacted 'just in case we did the story' sent me a message. Richard Horsman (as suggested by John) is in charge of the Leeds Trinity University postgrad Broadcast Journalism course and he had managed to find a student perfect for the job. Say hello to Liam Smedley. Below we read Liam's story of the what happened next. Meanwhile, I had a few more things to consider…
Was Liam was actually good enough to do the report? (I trusted Richard's judgement on this).
Could Liam drive at least an hour to the park, get to the ride, research the story, record the report, and send it back in time for me to edit it and get it loaded in?
Was there any phone signal at the very rural theme park? Did they have wi-fi we could use if not?
Health and safety forms and considerations. Everyone's favourite.
Liam had an iPhone but nothing else to record with. Would wind noise on the roller coaster ruin everything? Either he or the park would need gaffer tape to secure the phone.
If this doesn't work out – what will we do on air instead?
The clock was ticking. I phoned Liam.
Liam's side of the story
I'd been working every day for more than a month. After being busy all hours for 'Bradford Community Broadcasting' (as part of my journalism course) my plan for a rare day off was to stay in bed for as LONG as possible. So I was fast asleep when I was awoken by a text about 8am. I didn't look – instead I did my best to roll over and get back to sleep. The phone went again, so I had a look. It was my lecturer Richard.
Do you want to do some freelance for Radio 2 today – for the Jeremy Vine Show?
The second text read:
involves going on a roller coaster
Of course my instant reaction was "yes of course!" as a huge fan of Radio 2 and the Jeremy Vine Show specifically. I presumed that Radio 2 needed me to go and obtain 'quality audio' of an interviewee (ie. record their answers to set questions on a microphone – giving them better audio quality than a telephone interview). However, I couldn't anticipate what would happen next.

I said yes and Richard said to expect a call from Tim Johns. Tim's call came not long after I put my porridge in the microwave. Spoiler alert: I never got to eat that porridge.
Tim explained the story of the deer. I already knew I was going on a roller coaster but only during this conversation did I learn that it would me ME doing the report. My voice was going to be on Radio 2! That's when the nerves started to hit me a tad. However, there was no time to overthink. I was told I'd need to head immediately from my home near Leeds to make to it to the theme park near Ripon in time.
Tim said Lightwater Valley wasn't open on weekdays due to the time of year so they would be opening up the roller coaster especially for me. He kindly offered to email me a loose script so I'd have it on my phone by the time I arrived. It took just over an hour to get to Lightwater Valley. The park's staff were expecting me and were hugely accommodating and helpful despite the fact we were about do a detailed run-down of how a deer died on their premises.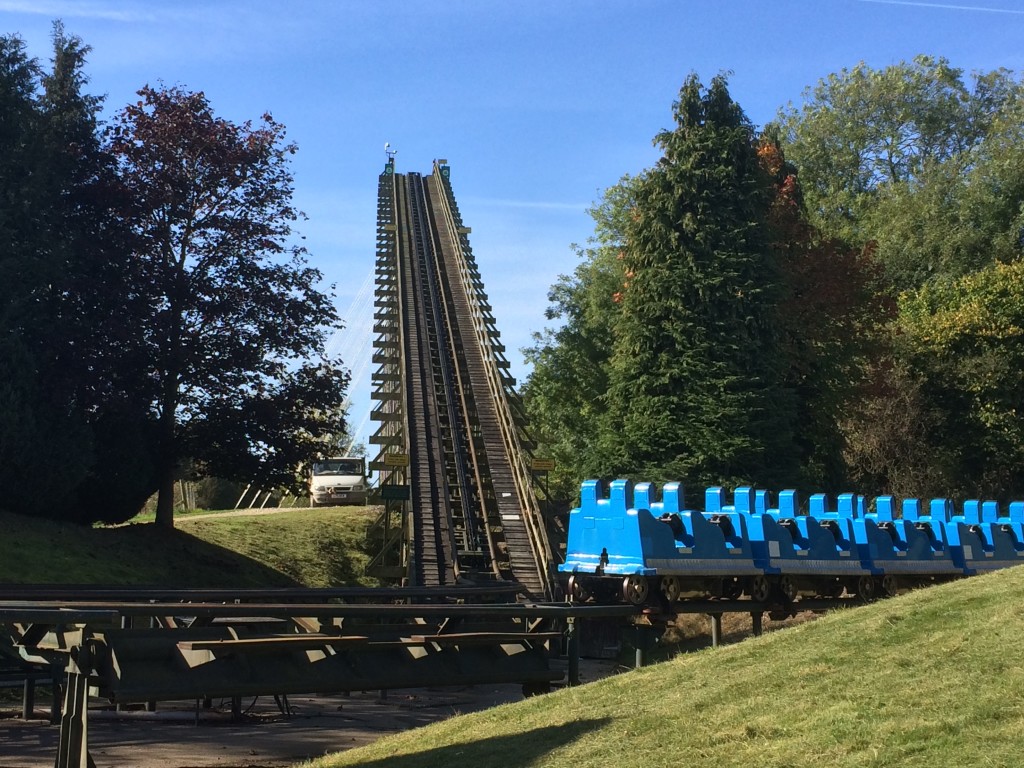 Thanks to health and safety, my recording equipment (in this case my iPhone) had to be somehow secured. And so, as Lightwater Valley management led me to the roller coaster, someone else was dispatched in a golf buggy to fetch gaffer tape. Lots and lots of gaffer tape. Holding the phone in the recording position we taped it to my hand with just another wiggle room for me to press the record and stop button. The idea was to do one take, send it back to Tim so that he had something to be working with, but to then record another take.
The day was surreal already. But seeing the park completely empty from 80 foot in the air as the carriage slowly climbed and climbed – with my ride the only one operating – it gave me goosebumps. I'd started recording. It wasn't long before the first 'drop' on the 'Ultimate Roller Coaster' and my now-famous (thanks Jeremy Vine for replaying them repeatedly) screams of "AAAAAAAAAAAAAARRRRRRRRRRRRGGGGGGHHHHHHH" occurred. The worst part of the drop is the stomach churn, where it feels like your breakfast is being turned upside down in your belly. On a few occasions I felt my phone starting to slip. I was probably gripping on to it tighter than my other hand was holding the railing.
I composed myself and recorded my report. Soon enough, I was back where I started. I leapt out of the carriage and the Lightwater Valley staff kindly cut the tape on my hand to free my phone. There wasn't much signal so I got a lift in a buggy back to the reception to borrow their wi-fi. The nerves were hitting me again. Tim ideally needed the raw audio to edit by 11am and it was 11:15. I hoped I hadn't missed the deadline; that it hadn't all been in vain.
I called Tim and said take one was done. I went back for the second. On Europe's longest roller coaster take-two took another stomach-churning six minutes. As I returned (windswept), I found that Tim had been trying to contact me and had passed a message to the Lightwater Valley team that the first take was fine, edited, and ready to go!
It was getting nearer broadcast time: 12:30. The day had moved so quickly I hadn't even contacted my family to tell them what I was doing so I simply sent parents and grandparents a text saying "Long story, but going to be on BBC Radio 2 in ten minutes – get it on". I hopped in the car to return home and put the radio on.
It wasn't long before Jeremy Vine was explaining the story and I gripped the steering wheel in anticipation, hoping my name would be said on BBC Radio 2. Before my journalism course I spent time working in commercial radio. I know how things work. And so I expected my efforts to result in a few seconds on air. To my surprise after Jeremy said the words "Our reporter Liam Smedley took a ride…" I was listening to myself on air for several minutes! A huge amount of my commentary made the final cut. In my pocket I could feel my phone vibrating constantly but I was driving so I couldn't check it. Jeremy was in hysterics and kept replaying my screams. He said:
Lots of people are asking us 'who is that guy on the roller coaster? It's made my day!'. Well, his name is Liam Smedley. I've just looked him up on Twitter, he's a student at Leeds Trinity University doing Broadcast Journalism and he stepped in last minute to do that for us today. I'm sure he's got a bright future ahead of him
When I was eventually able to look at my phone – things had gone bonkers! The screen was full of emails, texts, WhatsApps, Facebook messages and Tweets from people going…
You're on Radio 2!
or
Jeremy Vine on Radio 2 is talking about you!
…all from friends, family members, old school friends and colleagues. The biggest surprise was how many of Jeremy's listeners were tweeting me saying how much they loved the piece and that it had made their day. I haven't counted how many new followers I received from the occasion but it was a lot! My lecturer also proudly tweeted how this year's cohort hadn't even graduated and already one of us was on Radio 2. The attention was obviously very lovely but I know fame is fickle so I tried to be humble and take it in my stride. I did my best to reply to every complimentary message. However, even now I still get the odd message on Twitter or Facebook from people saying "Hey were you the guy who did the roller coaster report on Radio 2? I loved that!".
The story doesn't end there
By Tim Johns
Me again (Tim). The tweets about the deer went on for days. Weeks and week later we received the most wonderful postcard in the office. It was sent by a listener in France: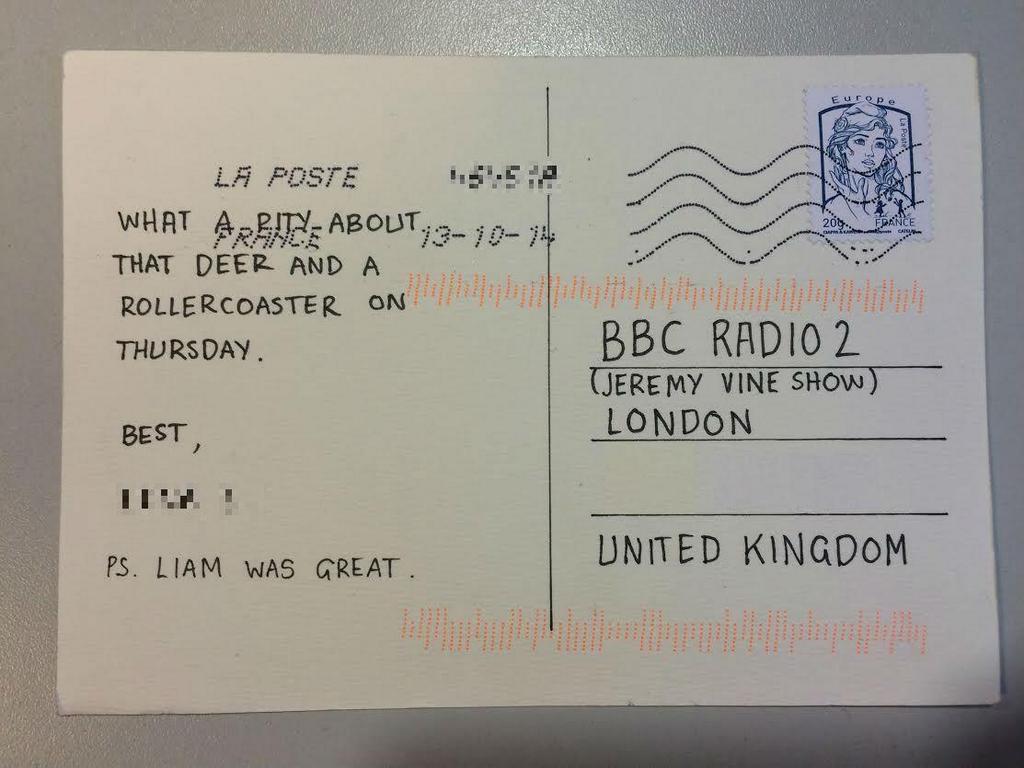 Liam stayed in touch and has recently done a two-week placement with Newsbeat. While there he came and watched the Jeremy Vine Show go out. It was the day of Children in Need and he ended up on-air again, reading out listener pledges for money. And of course, his roller coaster scream was played AGAIN.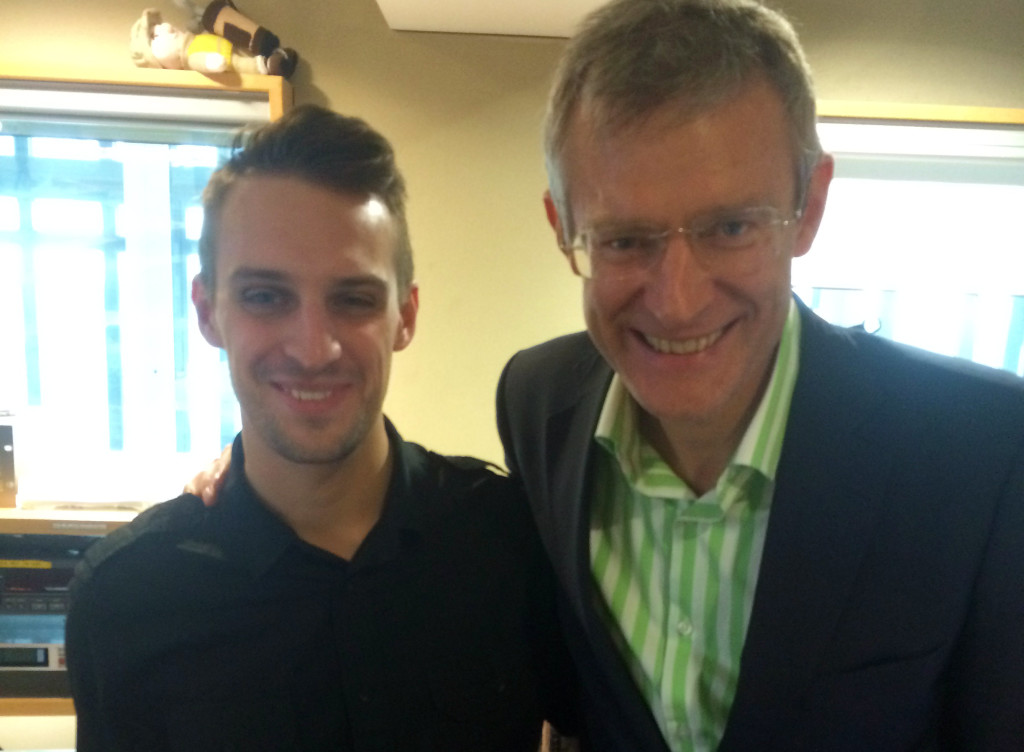 This is a story about how simple yet ambitious radio ideas can pay off. This may be a long article but at the time it was all done and dusted in a few hours. It's also a story about how exciting the first 'big gig' can be for aspiring journalism students. And – it's about how a great tutor on your university course can open huge doors for you. And so I leave the final words to Richard – who was vital in making this happen.
Richard Horsman runs Leeds Trinity University's postgrad Broadcast Journalism course
I have a simple rule when an editor calls asking for students for actual broadcast tasks. I say yes first, and then make it happen…somehow. My trainees are told from day one there is nothing more important than getting a foot in the door, and so they are usually prepared to change plans at a moment's notice when an opportunity arises. Even so, Tim's request was a tight turnaround.
Whilst listening round the breakfast shows, half awake at twenty past eight, I got a message from Tim. 'Need a freelance…it's in North Yorkshire – and by the way, they'll be riding a rollercoaster'. The penny dropped – I'd heard the story about the deer over the weekend – but Tim was too professional to betray his prospects when I replied 'This is about dead deer, isn't it?'. A flurry of texts later and the intrepid Liam Smedley was dispatched to Lightwater Valley.
I still thought, deep down, he was going to be a human mic stand to capture the voice of a health and safety suit. Some parts of the Beeb have money for that kind of thing. How wrong I was… I'm a fan of the Vine show because where the Today Programme generates heat, Jeremy sheds light. I thought the proposed treatment was, frankly, bizarre. Do the 'funny, screamy first time on a coaster' thing whilst talking about a deer being decapitated and families sprayed with blood on a theme park ride. But it worked. In our MoJo world of iPhones and websites I'd forgotten the power of radio to take the listener on that journey with Liam.
Liam got more fan mail via Twitter than I received in 20 years of blameless local radio service. It gave Liam a bit of profile to get him noticed at the start of his career. I'm proud to have helped more than 400 journalists enter broadcast news over 22 years. Liam's is, however, a debut few others in that time have achieved…from classroom to Radio 2 in a single leap. I wish him well in his future career and I'm grateful to Tim for making the call.
The report in full
You can listen below to the whole thing.
And a final word of thanks to both Lightwater Valley for being so accommodating, and to Richard at Boxed Off Comms for giving it the PR 'ok'. He saw the full picture where many would have just given us a knee-jerk 'no comment'.